ALORAIR 540 CFM IP-55 Grade Crawlspace Ventilation Fans, 8.7 in Basement Vent Fans with Isolation Mesh
---
Checkout securely with
---
👍【Functions & Applications】Airflow: 540 CFM, ventilation type: air out. The Ventilator fan for damp crawl spaces, basement, attic, and garage to reduce humidity. It can increase air circulation to stop condensation and wood rot. Also, used for exhausting vent radon gas, treating wood gases and odors, and preventing them from entering living spaces.
👍【Key Features】Built-in dehumidistat and freeze protection thermostat.👊 Operating humidity: 5%-80%RH, this High-Flow Powered Ventilator Fan will turn ON/OFF automatically with a set Humidity % Level. 👊The Dehumidistat control will not operate if the freeze protection thermostat senses low outdoor temperatures (35°F/3°C. ).  
👍【Built-in Isolation Mesh & IP-55 Rated Axial Fan】√  Isolation Mesh on the back prevents reptiles from gaining access to the crawl space; √ The Aluminum Zinc Shell with an IP-55 rating Axial Fan, is highly resistant to liquids and dust, higher weather-proof, makes it ideal for work in a humid environment with long service life, don't worry it rusts.
👍【Easy to Install & Operate Vent Fan】540 CFM Air Out; 15 x 10.2 x 2.8 Inches; 115 Vac ~ 50/60 Hz; 0.51 Amps; Noise: <55dB. 8.7-inch fan with 6-foot grounded power cord. When installed, Faceplate can be trimmed to match non-standard foundation openings. √ Just plug it in, set it and forget it.
👍【2 Years Warranty & safety tested】Our crawlspace ventilation fan is fully compliant with the electrical safety ETL. Every AlorAir crawl space fan comes with a 2-year warranty with a professional customer support team ready to assist at any time. If you have any questions, you can call us directly, ready to assist you.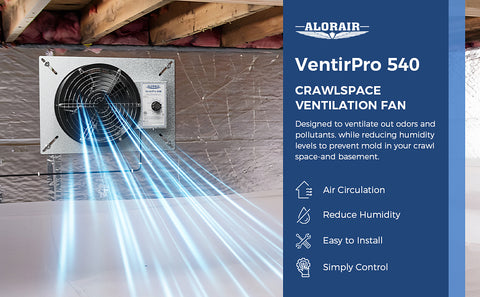 Why do we need a crawl space ventilation fan?
Crawl spaces that are perpetually enclosed lack the necessary outdoor air circulation, leading to an accumulation of damp air within these areas. This extended presence of moisture can trigger mold growth and cause the wood to rot, thereby compromising its structural strength. Moreover, the dampness of the wood attracts pests like insects and rodents, which chew and wear down the wood, resulting in additional damage.The situation worsens as airborne spores from the mold manage to infiltrate your living spaces through floors, gaps, and even HVAC systems situated in the crawl space. This leads to indoor air pollution, posing a significant risk to your family's health.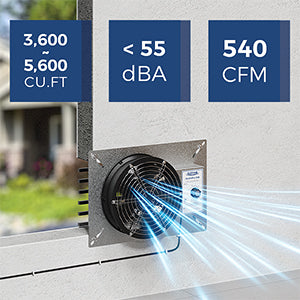 VentirPro 540 uses an 8.7-inch aerofoil fan, generating 540 CFM flow, to provide more efficient ventilation, and cover space up to 5600 cu. ft. Assists you in controlling the temperature and humidity levels of your space, making your crawlspace safe and comfortable, ideal for the basement, attic, garage, and any space where air circulation is required.
Airflow: 540 CFM
Suitable Area: 3600-5600 cu. ft.
Noise: < 55 dBA
Power Cord: 5 Feets
Thermostat: Opens at 35°F
Operating Humidity: 5% to 80% RH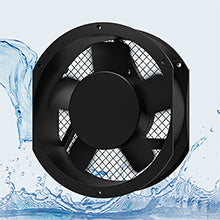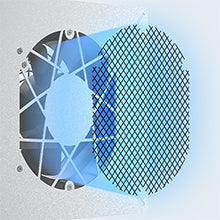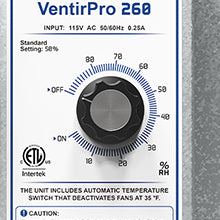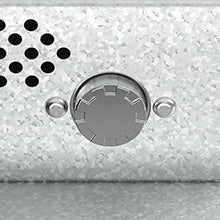 IP55 Rated Vet Fan
Extremely dustproof and waterproof, allowing stable operation in a variety of weather conditions. The 5-blade design makes the ventilation fan work with low noise.
Isolation Mesh
Add isolation mesh to prevent reptiles from entering the machine to affect normal operation and stop reptiles from crawling into your living space.
Physics Switch Dehumidistat
Features knob control panel without a complicated electronic interface, easy to set humidity for running, support 5%-80% RH control range.
Freeze Protection Thermostat
Built-in dehumidifier & freeze protection thermostat. The Dehumidifier control will automatically shut down to protect the machine if the freeze protection thermostat senses outdoor temperatures lower than 33°F/3°C.
Crawlspace Ventilation Fan Application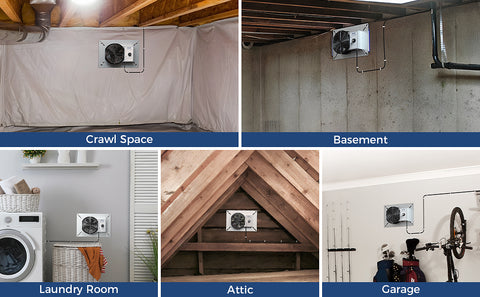 User Manual Download: