AlorAir Basement Dehumidifier 70 Pint Dehumidifier with Drain Hose | Sentinel HD35P
Description 
---
70 pints basement dehumidifier- The crawl space dehumidifier quickly and effectively removes 70 pints of water per day (90 degrees Fahrenheit, 90% saturation).Removes 35 pints in the case of AHAM. With GLGR technology, air humidity can be controlled more precisely. Coupled with the professional certification of Energy Star, it ensures energy savings and saving money while bringing you a good life experience.

 Designed for modern homes- Dehumidifier with drain hose easily solves distance drainage problems, water pipe length is 19.6 feet. A condensate pump installed in a commercial dehumidifier can shock water to an altitude of 19.6 feet. Whether it's gravity drainage or upward drainage, the ALORAIR dehumidifier can meet your needs, is the best choice for industrial water damage repair.

 Professional water damage repair- After many attempts by the R&D team, the use area of the dehumidifier has been greatly increased. It can be used in a space of up to 1,000 Sq.ft. The product size of the large room dehumidifier is 15.35*11.2*11.4in, and the weight is 39.7 pounds. Suitable for any basement, crawlspace, storage area, garage, large room, or commercial use.

 Full-featured- To your satisfaction, we designed this professional dehumidifier with the modern consumer in mind. Fast and efficient automatic defrost function allows the dehumidifier to be used even in low-temperature environments. The noise emitted by the dehumidifier when it is running is less than 55 decibels. Has a memory function that automatically restarts and closes.

Excellent customer service- Alorair dehumidifiers strive to be multi-directional as one, just to give customers the best experience. ALORAIR provides customers with after-sales service for machine maintenance within five years, and each HD35P dehumidifier is ETL safety certified. A professional customer support team is always ready to help. Please feel free to contact us, ALORAIR after-sales email address: sales@alorair.com
Suppose you've been struggling with excess humidity and moisture in your crawl space, garage, warehouse, factory, or store, AlorAir's Crawl Space and Basement Dehumidifiers Will Solve Your Moisture and Humidity Problems!
The best dehumidifiers help reduce excess moisture and protect your home. Excessive moisture in the home can result in unpleasant odors, and damage to home fixtures, and save the homeowner money and time. Choosing an Energy Star Certified Sentinel HD35P dehumidifier can save energy bills without sacrificing performance, features, and comfort while protecting the environment by reducing greenhouse gas emissions.
Note: This crawlspace dehumidifier is ENERGY STAR and ETL certified.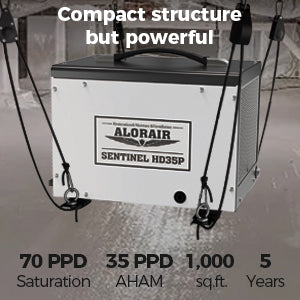 Features 
---
Portable & Light Weight
Sentinel HD35P dehumidifier is designed to operate indoors, We designed a built-in handle on the top of the dehumidifier, so you can easily carry the dehumidifier to every corner of your home.
Unlike other dehumidifiers, Our dehumidifier is Energy Star certified and ETL certified, which ensures your safety in use and reduces power consumption. Power saving, Save worry, Convenient.
Specifically Designed for Crawl Space & Basement - Updated Compact Design
It is much smaller and more compact than the conventional Crawl Space Basement dehumidifiers on the market.
The HD35P dehumidifier is perfect for low-clearance crawl spaces and tight basement areas or to fit in between floor joists.
Compact structure but powerful
Although this crawl space dehumidifier is quite compact, it doesn't sacrifice water removal capability, removing up to 70 pints of water from the air per day (35 Pints/Day @ AHAM)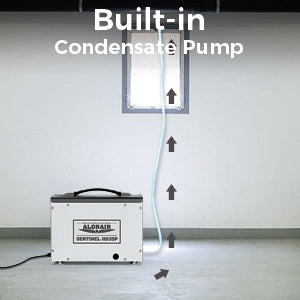 More Than One Way Of Drainage
Removing large amounts of moisture can be tough, especially from a sealed crawl space or tight basement. But to this crawl space dehumidifier with a heavy-duty internal pump and a 19.6 ft long drain hose, it won't be a problem anymore.
You can choose a gravity drain or pump drain with the working environment.
√ The internal pump automatically removes collected water from the dehumidifier so you never experience downtime due to a full water bucket. Water can be pumped sideways or vertically up to 19.6 feet away. 
Pump Specification:
Drain Height: 19.6 ft

Drain Hose Length: 19.6ft

Quick Access for Pump Maintenance
√ Gravity Drain: By using the dehumidifier drain hose connection to empty water into your floor drain. Drain hose length: 6.5 feet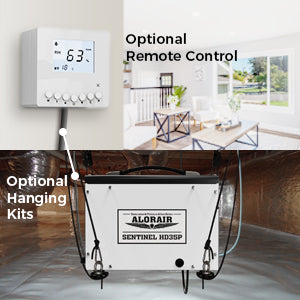 Purchase separately according to your basement or crawl space dehumidifying needs.
Optional Remote Control (Buy Separately): The Remote Controller connects to the dehumidifier via a 25' CAT 5 cable, enabling remote control and monitor your Dehumidifier. Function: Start/Stop Dehumidifier, Adjust Humidity Level, Dehumidification and Duct Mode Switch, Temperature Sensor, Continuous Mode, Drain Pump (if have) Control.
Hanging Kits (Buy Separately): These help to reduce noise and vibration while the basement dehumidifier is operating when properly installed. No transfer of noise or vibration to the floor above, and getting a lower space back is comfortable.
AlorAir Sentinel HD35P Dehumidifiers Will Solve Your Moisture and Humidity Problems!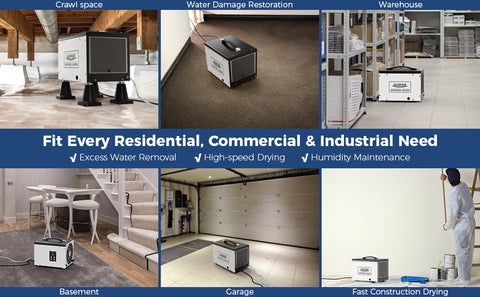 Specification
---
| | |
| --- | --- |
| AHAM, (80°F, 60% RH)(Pints) | 35 Pints |
| Max. at saturation (90°F, 90% RH)(Pints) | 70 Pints |
| Size for (Sq.Ft) | 1,000 Sq.Ft |
| Airflow | 115CFM,195CMH |
| COP | 2.0 L/Kwh |
| Filter | MERV-1 |
| Voltage(V) | 115V, 60Hz |
| Unit Dimensions (L×W×H)(in ) | 15.35*11.2*11.4in(390×284×290mm) |
| Power Cord(ft) | 9.44ft(2.88M) |
| Unit Weight (lbs) | 39.7 lbs (18KG) |
| Drain Pipe(ft) | 19.6 ft (6 M)/6.5 ft (2 M) |
| Drain Height(ft) | 19.6 ft(6M) |
| Functioning Humidity Range(%) | 25~80% |
| Temperature Range(℉) | 33~105 ℉ |
| Sound Pressure Level(dBa) | 50 dBA |
| Refrigerant | R32 |
User Manual Download

---