AlorAir 360 Degree Intake Air Filtration System Woodworking - (1350 CFM) with Strong Vortex Fan, Hanging Mode
---
Checkout securely with
---
🔹【 360-degree air Intake Air Filtration System】The Shop Dust Collector has a 360-degree air intake design, powerful enough to cover a large area with high circulating airflow, sawdust from woodworking, grinding, sawing, etc. Improving your workplace's air quality. Dimensions – 20.5" L x 20.5" W x 9.8" H | Electrical Requirements – 115V, 60 Hz, 1.5 A | Airflow – 1050/1350 CFM | Cover rooms up to – 1700 sq. ft. | Noise rating – 60 to 69 dB
🔹【Strong Vortex fan】The Air Filtration System for Woodworking is equipped with a Strong Vortex fan, which generates a strong airflow when working, and can maintain a high static pressure state even if the filter covers a large number of Wood chips. It has a two-stage speed selection (1050/1350 CFM). Suitable for wood carving workshop, Woodworking, and Garage.
🔹【 High-Efficiency Filtration Technology】The shop air filtration system is equipped with a filter with class MEVR 11, which can stop 90% of 3-10μm particles and 85% of 1μm particles. Ideal for wood carving, sanding, turning, scroll saw work, rotary tools, powder mixing, etc., it guarantees perfect results in terms of reducing indoor air pollution. The filter can be easily replaced.
🔹【Accessibility】√ Timer cycle controller, You can set the fan to shut down automatically in 1-9 hours. √ IR remote system, there is no wireless interference, and the anti-interference ability is strong. √ With a hook and chain, the shop dust collector is easy to move and can be hung from the ceiling in the shop or placed on a workbench. 
🔹【Reliable Quality, 1 Years Warranty & Professional U.S. After-Sales Team】Each AlorAir air filtration system has been strictly tested to ensure the perfect use of the product. We confidently provide a year warranty and lifetime technical support. If you have any questions, you can call us directly, ready to assist you.
🔹【IMPORTANT】 Does not meet California air cleaner regulation requirements; cannot be shipped to California.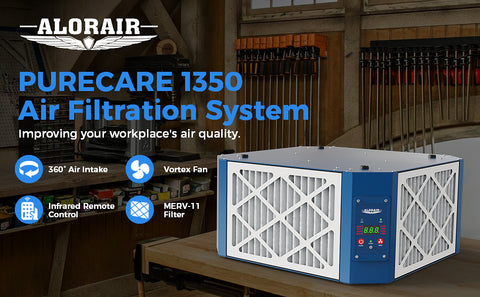 2-Speed Air Filtration System with Remote Control
Purecare 1350 air filtration system is a highly efficient device, widely used in different workspaces, providing multiple benefits for your work environment. It removes films of dirt, debris, particles and fine sawdust particles from the air for improving wood turning, sanding, sawing, chipping and air quality.
Features 360-degree air intake design that circulates air in a 400 square-foot space up to 13 times per hour.

Use the Vortex fan to create more powerful wind, and offer 2 optional airflow speeds of 1050CFM/1350CFM for your adjustment.

Purecare 1350IG dust collector includes an infrared remote control, in addition to manual control, and also supports remote control within a certain distance.

High-density MERV-11 is easy to disassemble and install, assisting the unit to achieve a more thorough cleaning.

1-9 hour programmable timer allows you to set the time you desire, the unit automatically shuts off when the set value is reached.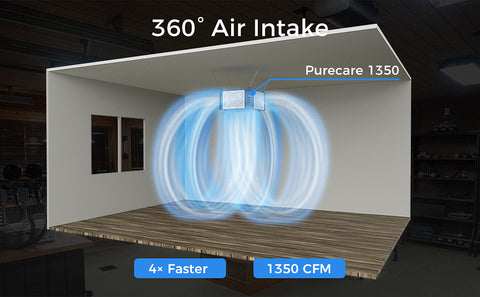 Powerful Indoor Air Circulation
Purecare 1350 air filtration system has a 360-degree air intake design. Compared with traditional units, it can improve the air quality of woodworking workshops more efficiently and quickly, providing you with better air circulation. Hang it from the ceiling of the workshop or place it on a horizontal surface to effectively remove sawdust particles or other allergens from the space up to 1350 cubic feet per minute.
Application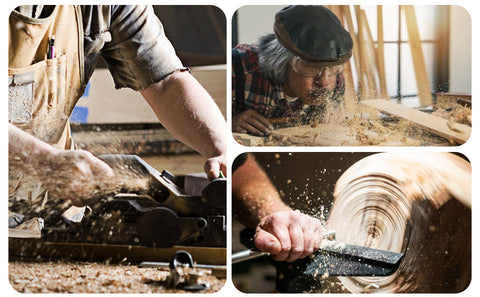 Notes:
The package includes accessories.
Use a separate electrical circuit for your tools.
This circuit must not be less than a 12AWG wire and should be protected with a 15 A time-delayed fuse.
Clean the particles of the filter regularly to avoid efficiency reduction.
User Manual Download: