TooVem Remote Controller for Digital Humidity, Temperature, Adapt the Humidity Level, for Basement Crawl Space Dehumidifier
---
Checkout securely with
---
Sentinel series dehumidifiers can be controlled using an optional remote accessory. The remote control connects to your sentinel series dehumidifier via a 25' CAT 5 cable. TooVem Remote Control is equipped with Wire / Cord Length: 25 ft / 7.8m. Plug, and Play.
The remote controller comes with big LCD Monitor and simple symbol condition Indicator. blue backlit display read the humidity and temperature of the area where the commercial dehumidifier is in, you can grab the data at a glance.
The wall mount dehumidifier control contains an extremely sensitive integrated sensor that quickly informs you of the comfort level of the room. And this unit easy install, mount the controller on the wall to remotely set the desired humidity level when the dehumidifier in another room. For convenience you can put it in living space or garage.
Function: ON/OFF Dehumidifier, Set Humidity Level, Dehumidification and Duct Mode Switch, Temperature Sensor, Continuous Mode, Drain Pump (if have) Control.
Remote control for Sentinel series HD55, HDi65, HD90, HDi90, HDi100, HDi120, Guardian series SN55, SNS65, SN90, SNS90, SNS100, SNS120, AirWerx55, AirWerx65, AirWerx100X, AirWerx120X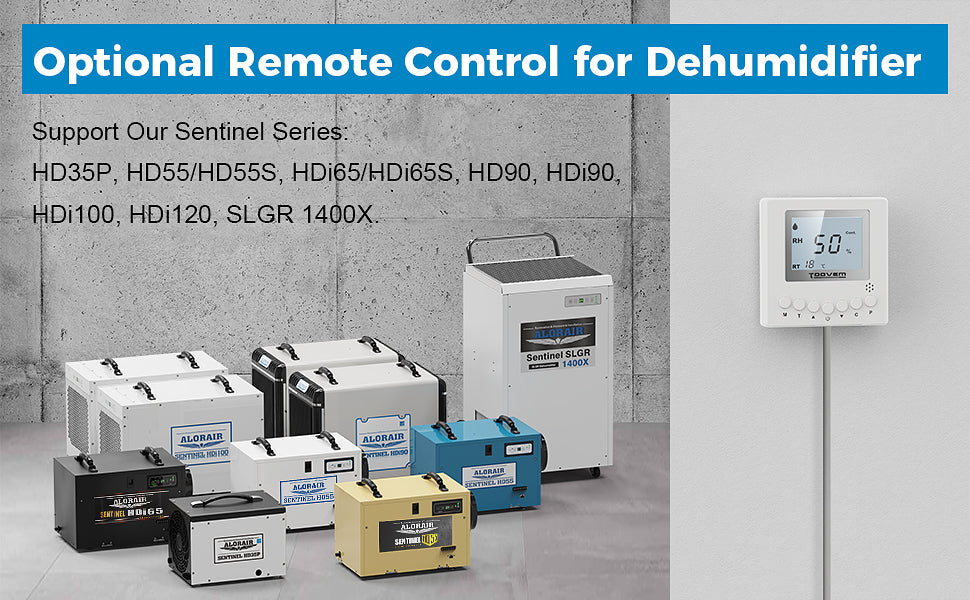 User Manual Download: