Purisystems Air Scrubber with 5-stage Filtration System, Negative Machine Air Scrubber, Built-in Ionizer and UV-C Light, Professional Water Damage Restoration for Air Cleaner | up to 600 CFM
---
Checkout securely with
---
Indoor air quality can go unnoticed much of the time, but it affects us more often than we know. To improve air quality, knowing the formula and the right gear makes it a whole lot easier. During remediation work, construction, or after building damage like flooding, a fire, or demolition works, it's especially important to ensure that the air is free from floating dangers.
A popular option is the HEPA 600 UVIG air scrubber. Ideal for is used in sewage repair, water and fire damage repair, construction sites, decoration projects, and dust and odor control.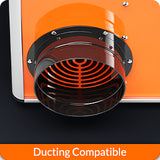 Optional Air Outlet Duct
Use this rigid, reinforced ducting on the inlet and outlet of your air scrubber to prevent suction-induced collapse. It's also a great accessory for jobs where you need to route ducting around a bend or corner – where lay-flat ducting could kink and result in reduced airflow. (Sold separately.)
Easy to carry
As a portable air scrubber, the air scrubber machine has a folding handle, so it's easy to transport the air scrubber from one room to another, from downstairs to upstairs.
Storage Straps
Use Heavy-Duty Wrap for storage and organization of power cords, extension cables, rope, and more. Grommet makes it easy to hang hose and keep clutter-free. It's the perfect design that comes with an air scrubber.
 Air scrubber with advanced 5 stages filtration
The HEPA 600 UVIG has a 5-stage filtration, It is a Merv-10 filter that can capture large particles and HEPA class Merv-17 filters that are tested and certified at an efficiency rate of 99.97% at 0.3 microns. the air cleaner puts out superior air quality – be it when dealing with concrete dust, fine sanding dust, or gypsum dust. In this way, you can be sure that the entire room benefits from cleaner air.
Air scrubber with intuitive control panel
Multi-Function Control Panel:
Hour Meter:

 

Hour Meters track and record air scrubber running time to assure proper equipment maintenance.

Change HEPA Filter Indicator: 

The indicator light will alert the operator when filters are loaded or when airflow is greatly decreased. Filters should be inspected and replaced. Once filters are replaced the light will go off.
Variable Speed Switch:

 

The variable speed dial can be set from 260 -600cfm depending on the desired vacuum flow.

Circuit Breaker Switch: 

The circuit breaker switch is used to protect the controls of the machine. It will trip if the maximum amperage is exceeded.

Function Switch: 

For turning ON/OFF UV-C light and ionizer function.

Auxiliary "GFCI" protected Outlet -115v:

 You can daisy-chain up 3 to the maximum, with a combined airflow speed of 1800 CFM
Use the HEPA 600 UVIG air scrubber, air all around, let you breathe fresh air in the working area.
IMPORTANT: Does not meet California air cleaner regulation requirements; cannot be shipped to California.
Specification:
Power 2.6 amps, 115V, 60 Hz
Duct sizes inlet Intake: 10 in.
Duct sizes Outlet Intake: 6 in.
Cord 23 ft Power Cord
Outlet 15A UL Rated GFCI Duplex Receptacle
Static pressure 2.8 in. (H2O)
Airflow 270~600 CFM
Sound Pressure Level <58 dBA
Pre-Filter: Hepa / Activated Carbon Filter
Weight: 36 lbs (18.0Kg)
Dim(W x H x D): 17.8 x13.8 x16.3 in
Shipping Dim(W x H x D): 20.2 x16.8 x19.3 in
In The Box:
1 - Purisystem HEPA 600 UVIG Air Scrubber
1 - 3-Stage Filter (MERV 10, HEPA / Activated Carbon)
1 - Built-in UV-C Light
1 - Power Cord
1 - User Manual

User Manual Download: