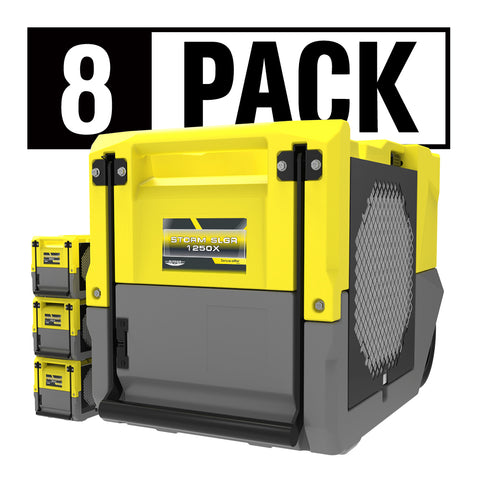 AlorAir Smart WiFi Dehumidifier, 125 PPD High Performance, Commercial Dehumidifier with Pump, pack of 8
$13,200.00

$13,200.00

SAVE 17%
---
Checkout securely with
---
✔【App Control & Dry anywhere】: MONITOR THE RESTORATION PROCESS ON THE GO! Our free AlorAir DryEasy mobile app is included with the unit upon purchase. Removal 275 PPD at Saturation condition and 125 PPD at AHAM only with 8.2 A, Super-Efficient System, This Industrial Dehumidifier has Automatic Digital Humidistat Control, Micro-channel Condenser, Timer, and built-in Pump.
✔【Commercial, Industrial, and Personal Use】: Precooling Circuit Technology, ideal for Removing Damp and Moisture from Flood & Restoration, Carpet Cleaning, Basements/Cellars, Laundries, De-Flooding, up to 3,000 sq. ft. DryingWork hard overnight or continuous for days at a time without you worrying about it.
✔【Design with humanized】: Because of its compact size, Foldable Handle with 6" wheels for transport, superior stacking features, and easy service access. Onboard storage for 20′ power cord and 20' condensate hose. The standard filter is a MERV-8 high-efficiency filter.
✔【Easy Read & Operation】: It has no complicated function button, and Temperature, and Humidity Display on Both the Inlet and Outlet Side, Ideal for water damage restoration projects, The clear LCD display, is easy to read even from a far distance. ★Please remove the protective film before use. ★
✔【5 Years Warranty】: Our product is designed with a heavy-duty roto-mold technology that we with a 1-year and a 5-year housing. We believe in quality and after-sales service, It is sure to last long and still keep its shape look.
Monitor the Restoration Process on the go!
Connection modes
Generally, the app can be connected through two options: Direct connection and Wi-Fi connection. 
Add New Work Plan
It can be accessed from the google play store or App store. Once downloaded and installed, all you will need to do is to enter your work plan. To do this, you will need to click on Add New Work Plan. Here, you will enter the work plan details including contacts, and have the info saved.
Chamber Graph Trends
The drying log is where you will enter your daily readings. The outside conditions will be pulled from the nearest station. Smart dehumidifiers will send their information to the drying log.
List of current team members
This can be found on my team. It allows you to invite new members that want to join your team. Here, you have the ability to dissolve and move the team. As an administrator, you can also add or remove any member from the team.
User Manual Download: