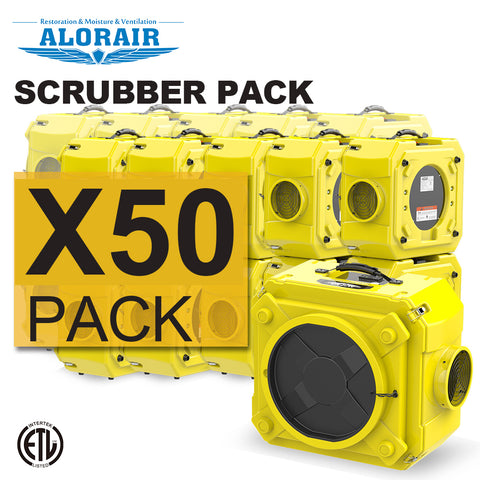 CleanShield HEPA 550 Air scrubber wholesale package (Pack of 50)
$19,500.00

$19,500.00

SAVE 19%
---
Checkout securely with
---
50 × CleanShield HEPA 550 Air scrubbers In Wholesale Packages 
The AlorAir CleanShield HEPA 550 air scrubber, with the smallest and lightest design, is unbeatable compared with other brands in removing airborne miscellaneous debris at 0.3 microns in size including pollen, plant spores, mold spores, and pet dander. Pre-filter, HEPA filter, and activated carbon filter are all adopted in the CleanShield 550. The CleanShield HEPA 550 is absolutely powerful in cleaning contaminated air with pre-filter and activated carbon filters capturing larger particles and the HEPA filter drawing in smaller particles.
CleanShield HEPA 550 is capable of cleaning air horizontally and vertically with an electricity consumption of no more than 3 amps. CleanShield HEPA 550 can produce 550 CFM airflow volume at its peak, which virtually adsorbs all hazardous particles from the air.
During restoration work and drying after water damage, the driving airflow can stir up particulates and particles adhering to the carpet or other materials. Then those dirty particles can be filtrated by the device with clean, odor-free air.
Features
C-ETL Certification
Power: 2.5 Amps 115V 60 Hz
Duct Sizes Intake: 16 in
Duct Sizes Outlet Intake: 8 in
Cord: 23 ft
Outlet: 15A UL Rated GFCI Duplex Receptacle
Static Pressure: 2.8 in(H2O)
Air Flow: 270~550 CFM
Sound Pressure Leve: <65dBA
Weight: 39.6lbs (18.0KG)
Dimension: 20.87 x 24.8 x 14.96 in

User Manual Download: