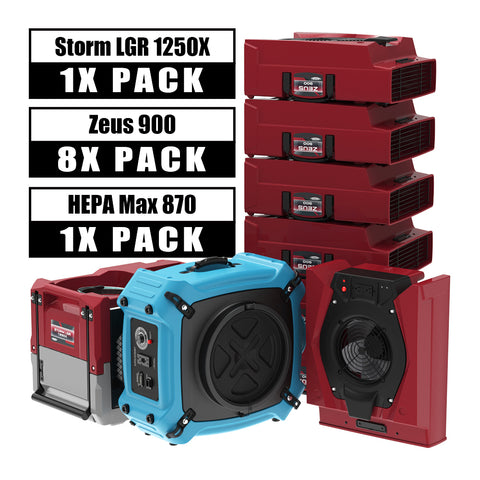 AlorAir® Commercial Pack, 1 X Storm LGR 1250X Smart WIFI Dehumidifier, 8 X Zeus 900 Air Movers and 1 X HEPA Max 870 Air Scrubber Water Damage Restoration Equipment Package
$4,896.00

$4,896.00

SAVE 2%
---
Checkout securely with
---
Includes: 1 × Storm LGR 1250X WIFI Dehumidifier & 8 × Zeus 900 Air Movers & 1 × PureAiro HEPA Pro Max 870 Air Scrubber
Product Description:

Storm LGR 1250X WIFI Dehumidifier (×1)
SPECIFICATION
Moisture Removal Capacity (115V/60Hz): 125 Pints/Day@AHAM (80°F-60%)
264 Pints/Day@saturation (90°F,90%)
Coverage Area: Up to 3,000 Sq. Ft. 
APP Control
Wheels+handle
MERV-8 Filter
Built-in Pump
LCD Display
Ideal for removing Damp, Mould, Rot and Moisture from Flood & Restoration, Carpet Cleaning, Basements/Cellars, Laundries, De-Flooding, Drying Furnishing, Offices, Laboratories, Tradesmen, and Garages. Keep Dry and Restrain Bacterial Growth
AlorAir Zeus 900 Air Movers (×8)
SPECIFICATION
Fan 6 Blades
Control On/Off Switch With Variable Speed
Voltage 115 V/AC (220V/AC needs to be customized)
Current 1.8 Amps (High Speed) @115 V/AC,0.6Amps (High Speed)
Cord 20 ft Power Cord
Outlet 15A UL Rated GFCI Duplex Receptacle
Airflow Approximately 950
Sound Pressure Level <65 DbA
Weight 24.2 Lbs (10KG)
Warranty 1 Year - 100% parts and labor(all components)
2 Years - 100% parts only (all components)
3-7 Years - Materials and workmanship of the housing only.

PureAiro HEPA Pro Max 870 Air Scrubber (×1)
FEATURE
It is a bigger air intake than competitors' units, with 550 CFM maximum airflow capacity.
Speed control switch.
Lightweight, compact, and durable ABS plastic housing design.
Stackable.
Filter change indicator light.
23 ft. power cord with cord management.
ETL/CETL safety certified.
Power-on indicator light.
GFCI protection promotes operator safety in wet applications.
Units interlock for ease of stacking during storage and handling.
Roto-molded polyethylene Housing.
It is a bigger air intake than competitors' units.
CERTIFICATE NO: Carb EO# G-20-259. EPA Registration # 99216-CHN-1.